Some people seem to have cracked the secret code to happiness and are having the best time of their lives. All the while, others spend their whole lives chasing the most elusive of all emotions and never seem to succeed.
Have you ever wondered why? 
Searching for happiness is a tricky proposition. The more you search for it and the more you seek it, the more elusive it is and the further it gets away from you.
Why is that so? Where are we going wrong?
In our search for happiness, we try to acquire materialistic possessions such as a house, a car or even go on vacations to exotic locations. 
You may find momentary happiness with these attempts but never lasting enough to have any real impact. 
The problem is with the approach to happiness. It is not something you can get for yourself with money or even hard work.
The secret to happiness is the attitude of gratitude. Having a grateful attitude can bring you the happiness you have been chasing all along.
This article helps you understand the importance of gratitude in your life through the words of wise people who have cracked the code. 
The highly successful motivational speaker and self-development author, Brian Tracy must know what he is talking about. An author with 80 titles with millions of copies sold worldwide, he spent his life understanding some of the most successful personalities. 
With an attitude of gratitude, you would be perceiving all life events through the lens of positivity. This will give you an optimistic mindset that tells you that your every word and action will help you progress towards a better tomorrow. 
With a grateful attitude, everything you do will take you forward in the right direction.
Mr. Kennedy needs no introduction. 35th President of the United States of America, Mr. Kennedy is also famous for his memorable quotes.
This quote from Mr. Kennedy embodies the true spirit of gratitude. What he is trying to convey is that gratitude is more of an experience and expression than mere words. And, the best way to express gratitude is to absorb them into our lives.
It is more important to feel gratitude as an emotion rather than utter the words of gratitude.
The famous motivational writer William Arthur Ward has more than 100 articles and poems to his credit. He spent a lifetime understanding the value of gratitude and spreading the word to the public through his writings. 
His words emphasize how practicing gratitude can change our lives. We need not wait for thanksgiving to brush up on our attitude of gratitude. We can make every day a Thanksgiving Day. 
Once we imbibe this attitude, even chores will be enjoyable and common events will turn out to be blessings. There will be no more place for negativity in our lives. Having a grateful mind gives us a positive perspective.
Fred De Witt Van Amburgh wore many hats during his lifetime – newspaper and magazine publisher, motivational speaker, and author of five books. Through his writings, he has tried to spread his functional pragmatic philosophy along with goodwill and good cheer. He constantly endeavored to inspire his readers and listeners to lead lives filled with gratitude.
This quote grabs attention for its simplicity in delivering the right message. In this world where everything runs on money, being not-so-rich is no fun. However, all is not lost. You can still make your life richer with gratitude.
The concept of abundance need not apply to wealth and money alone. Having a grateful heart also makes your life abundant. And the attitude of gratitude is something that you can develop on your own. The best part is you won't go broke even when you use it.
Kristin Armstrong, also known as Kristin Richard, is an accomplished runner, a freelance writer, and a contributing editor for Runner's World Magazine. An avid advocate of good relationships, she has experience in teaching, counseling adolescents, and leading women's groups in her church.
A life devoid of gratitude is bound to amplify our failures, disappointments, and frustrations. Instead, if we turn our attention to gratitude and fill our minds with thankfulness, all the negative emotions plaguing us will dissipate and pure love will take its place.
What better way to ensure happiness in our lives than having an attitude of gratitude?
You may also want to take a look at our guide on how to create your own happiness.

The popular author of self-help books, Melody Beattie is well-known for her work in addiction recovery and codependent relationships. She used her own life experiences of neglect, abuse, and addiction to help people in distress. 
This quote beautifully brings into perspective the benefits of cultivating an attitude of gratitude. Besides helping us experience life at its glorious best, gratitude can turn the most ordinary or even undesirable emotions into positive ones. 
The effect of gratitude in our lives is nothing short of magical. It transforms the way we view our lives and what is happening around us.
William Arther Ward is a well-known motivational speaker and writer who has inspired millions through his speeches, poems, and articles. He used his vast experience in diverse fields and keen sense of observation to understand human nature. He utilized his popularity among the public to inspire them to lead better lives.
Gratitude has value only if it is expressed in the right way in the right context. Keeping it hidden or storing it away robs it of its significance and benefits. Gratitude like happiness grows exponentially when shared with others. In fact, the more you share it, the more value it has.
Unexpressed gratitude is like a present that is not gifted. It will have no value.
Known as the "prince of paradox", G.K.Chesterton, wore many hats in his life comfortably. A writer, literary and art critic, philosopher, and lay theologian, he gained public attention as a social thinker. He brought out his views on religion and morality and social concern through his writings.
The relationship between gratitude and happiness has been proven beyond doubt. Happiness is a natural byproduct of a grateful mind. Mr. Chesterton considers the attitude of gratitude as the highest state of mind. And once you attain the supreme state, there is no looking back for you.
Mr. Chesterton links the feeling of wonder to happiness and thereby gratitude. When you experience wonderment, it is natural to feel happy. When you bring together the emotions of happiness and wonder, it evokes a sense of gratitude that is multiplied many times over.
Robert Brault is a freelance writer well-known for his short thoughts. He has published five book collections of his thoughts, most of them on maintaining good relationships, finding happiness, and promoting gratitude.
Most of us know and understand the importance of having a grateful attitude and expressing it to others. However, there is an invisible roadblock that prevents us from making this a reality. We hesitate, we put it off, we avoid it, we do everything else other than express gratitude, even when we feel it.
Mr. Brault equated gratitude that is left unexpressed to ingratitude. This means, a gratitude that is not expressed is of no use and is worth nothing. For all practical purposes, unexpressed gratitude and ingratitude are similar.
The famous creator of "The Secret", Rhonda Byrne brought the world focus on the benefits of the law of attraction and manifestation. The movie ended up transforming the way people thought, felt, and behaved, starting a global movement that changed the lives of millions.
One of the basic tools for manifestation using the law of attraction is gratitude. It can open closed doors and help you achieve things beyond your wildest imagination. Gratitude is a key component in manifesting goals.
Ms. Byrne is telling us that gratitude is not a feeling reserved only for special occasions. Every small event in our lives can be a trigger for gratitude.
Maya Angelou was a poet, civil rights activist, writer, and much more in her lifetime. An icon and an inspiration to a generation of African Americans, Ms. Angelou spread her philosophy through her writings and stirring speeches. 
An avid believer of the law of attraction, Ms. Angelou didn't miss an opportunity to help us understand the workings of the law. Mindfulness and gratitude are two of the vital components for manifestation. 
Just by being present in everything we do, we can derive so much more from it. Practicing gratitude is like opening the doors wide to attract all the good things into our lives.
Alfred North Whitehead was a mathematician and philosopher, who followed the philosophical school of Process Philosophy. He saw "the world as a web of interrelated processes of which we are integral parts" and "all of our choices and actions have consequences for the world around us".
Mr. Whitehead understood the importance of gratitude in our lives. The lack of gratitude will rob you of all the positive things that life has to offer. The presence of gratitude is what helps feel positive emotions and build healthy relationships.
Expressing gratitude doesn't lower you in the eyes of others. Success often comes by building on what others have achieved or taking help from others. It is only natural to acknowledge their contribution.
Melody Beattie is a successful author of self-help books and has inspired millions to lead better lives. She is famous for her work in addiction recovery circles and for promoting healthy relationships.
What gratitude can do for you is priceless. Many of us are aware that it helps us find happiness and peace of mind in the present. Ms. Beattie also directs our attention to how gratitude can help with our past and the future. Gratitude helps us gain a clear perception of the past and sets ambitious goals for the future.
Marcel Proust was a French novelist, essayist, and critic who is well-known for his epic novel, In Search of Lost Time. The central theme of the novel is involuntary memory and follows the narrator's recollections of transition from childhood to adulthood.
Mr. Proust has used a metaphor to bring out the benefit of gratitude in the most beautiful way. He has compared "people who make us happy" as gardeners. And our souls as the garden. 
He is saying that we should feel gratitude towards the people who make us happy, as they help weed out the unwanted negative thoughts and emotions from our souls and fill it up with positive ones. Thus, helping our souls bloom and flourish.
Denis Waitley is an American motivational speaker and writer who has earned himself a place in the International Speakers' Hall of Fame. His keynote lectures and audio programs on personal and career success are very popular.
In this quote, Mr. Waitley sums up the role of happiness in our lives. Happiness is not something that can be pursued, worked at, acquired, held, carried, or used up. It is an experience that naturally comes to you when you fill up your life with love, grace, and gratitude.
A life of gratitude and love automatically brings you happiness without you ever pursuing it.
Amy Collette is an author and motivational speaker who is on a mission to promote positive vibrations in the world. According to her, gratitude is the superpower that can fuel your transformation to a positive life.
In this quote, Ms. Colette describes the relationship between gratitude and happiness. Though gratitude cannot guarantee happiness, it works like a catalyst or incentive to enrich our lives with happiness. 
She equates gratitude as the spark that can light the fire of happiness in our minds.
Cicero was a Roman statesman, lawyer, scholar, and writer. He is well-known for his books of rhetoric, orations, philosophical and political treatises, and letters. He is most remembered as a great orator and as the creator of the Ciceronian rhetoric.
In this quote, Cicero encapsulates the value of gratitude succinctly. He describes gratitude as the greatest virtue and way above the rest of them. He even goes on to say that the rest of the virtues are born out of gratitude. 
In other words, practicing gratitude acts as a trigger for other virtues in us.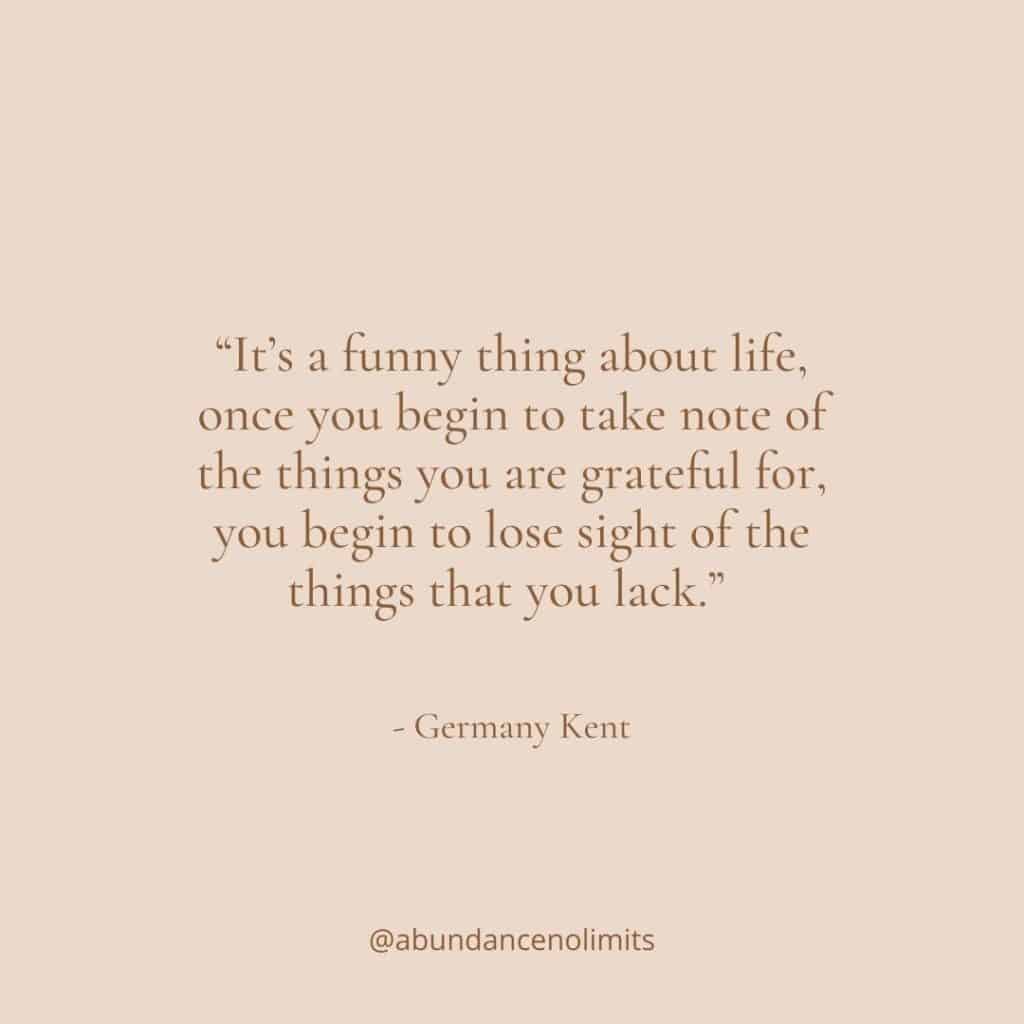 Germany Kent is a national award-winning print and broadcast journalist, bestselling author, activist, and philanthropist. Well-known for The Hope Handbook series, she is a motivational speaker on topics such as optimism and self-empowerment.
 Ms. Kent in this quote emphasizes the importance of gratitude in our lives. When you fill your heart with gratitude, you tend to forget about the absence of things in life. In other words, when you are focused on what you already have and feeling grateful for the blessings, it is easy to overlook the fact that your life is lacking in some areas. 
The absence or deficits fade into the background when gratitude is the dominating emotion in your mind.
Aesop was an Ancient Greek storyteller and writer famous worldwide for Aesop's fables. The Fables is a collection of stories written with animals as characters, offering us moral lessons. The Fables teaches us the value of virtues in an entertaining way.
This quote of Aesop tells us that people who are critical, demanding, and accommodating may end up with nothing. Often people demand more in the belief that they will get more only if they ask for it. Or they are choosy thinking they want only the best. However, it may not work out the way they intended.
Ultimately, the people who are too picky may remain empty-handed. Instead, Aesop is imploring us to appreciate more.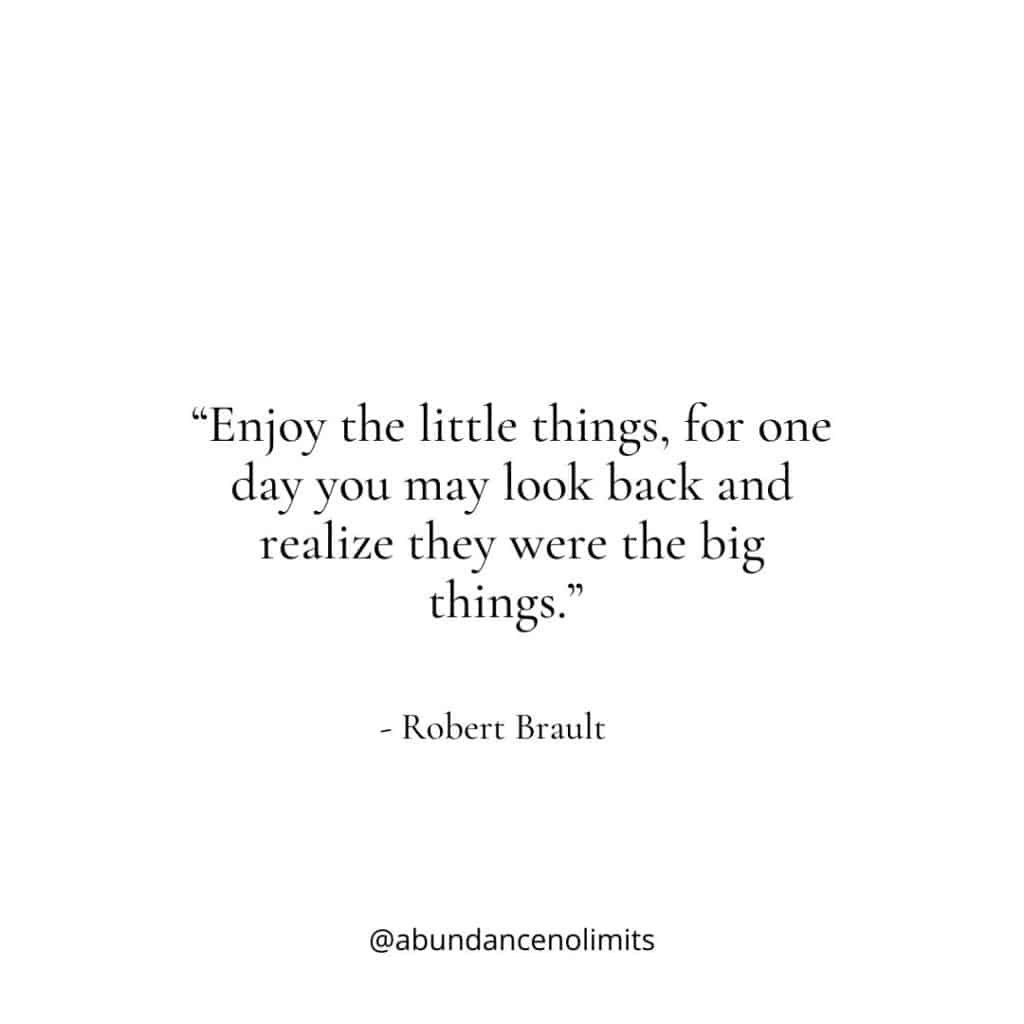 Robert Brault is an author and freelance writer who is well-known for his contributions to newspapers and magazines. His observations and short thoughts about life are popular and have been published as book collections.
This quote tells us the importance of small things in life. Often we dismiss them as inconsequential and do not pay much attention to them. Neither do we enjoy them nor feel gratitude for the little events in our lives.
Mr. Brault is telling us that at a future date when we look back, these very same little things will gain prominence and turn out to be important events that shaped our lives. So, instead of ignoring them, we should be enjoying them to the fullest and feeling thankful for their presence in our lives.
Final thoughts
Most of us know the value of gratitude and how it can help us in many ways. It is drilled into us as kids, we teach our kids, and it is one of the favorite topics of preachers. We even have a holiday dedicated to gratitude – Thanksgiving.
At best, we thrust upon ourselves a forced sense of gratitude without feeling it in the real sense. Rarely do we delve deep into the topic and understand why having an attitude of gratitude is so essential.
Once we get a good grasp on its significance and the true meaning and gain the ability to genuinely feel it, we would be able to derive its actual benefit. If at all you felt a whiff of doubt about what an attitude of gratitude can do for you, these famous gratitude quotes from famous personalities who have cracked the secret code to happiness would have removed them.
Why not take up a 30-day gratitude journal challenge to boost your attitude of gratitude and try to catch the slippery-as-a-eel emotion of happiness?
Recommended Reading: